Why I have changed my mind about South Korea!
Before I came to Korea, I kinda like do not really into K-pop things because I didn't really like to see the pretty boys in Korean bands. I came to Korea with hatred, but I began to discover their history, culture, meet lots of good people there and I can say that Koreans can be a very good company. They are very nice and make funny jokes too which makes me missed my friends in my hometown less. I love their hospitality like how they treat you if you come to their house and how they value friendship.
I also noticed that Koreans are very hardworking both academically and in terms of gaining money during the semester break. They also care very much to their dental health and of course their skins. I can also find men buying cosmetic products which is very rare in my country. So, I can say I love Korea and it's not because of the Korean wave. Even though now, I began to respect others' interests and I also began to listen to some K-pop songs too.
The results of course varied from different person. There was my friend who really into K-pop bands and k-drama ended up hating Korea.
As for me, I try to think and grab most of the positivity in Koreans and somehow apply it in my real life.
Do I like living in South Korea?
Yes, I very much do. Although the laws are stringent, they're okay. The best part is that, because I live in Seoul, I almost always see K-pop idols walking around the city. I have seen Lisa from Black pink, Jisung from NCT and PSY. But I keep my composure when I see them. I don't scream or shout their names nor run over to them because I don't want them to feel uncomfortable.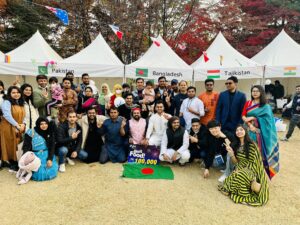 We have a great student community here in Ajou University. Everyone is friendly, helpful, and respectful to others.
I also like living in Korea because of the beautiful scenery and fantastic parks, shops, restaurants, cafes, etc. So that's why I love living in Korea.